The new generation of advanced three phase relay test set
Testing all relay technologies: electromechanical, solid state, numerical and IEC61850
Local control with color display
Simultaneously available: 3 Current and 3 Voltage plus 1 battery simulator outputs
High current outputs: 3 x 32 A, 1 x 96 A
High power outputs: 3 x 420 VA, 1 x 1000 VA
High accuracy outputs: better than 0.05%
Optional IEC 61850 protocol interface
USB and Ethernet interface
Pen drive interface
Optional internal GPS and IRIG-B interface for end-to-end tests
Optional PC control using TDMS – Advanced Test and Data Management software
Complete library of relays from the major manufacturers
Highest quality, safety and reliability
Worldwide high quality technical support in 100 countries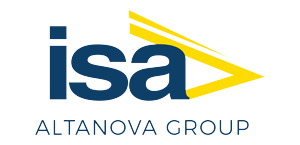 DRTS 33 SPECIFICATIONS Local Control
DRTS 33 is the leading edge most powerful and accurate relay, energy meters (class 0.1) and transducers test set manufactured by ISA. The locally controlled test set generates high precision (0.05% accuracy) signals using multiple DSP technology.
Its powerful current outputs (3 x 32 A at 430 VA) and voltage outputs (3 x 300 V at 100 VA) allow to test any type of relays including old electromechanical relays.
Optionally the test sets integrate the IEC 61850 protocol interface for testing relay with Ethernet-based substation communication protocol.
OPERATOR INTERFACE
DRTS 33 can be operated directly from the front panel by means of a large color graphical display, a rotary selector, a keypad and function keys.
DRTS 33 can be upgraded to be controlled by PC, using the software suite TDMS – Test & Data Management Software.
Two PC interfaces, USB and Ethernet, allow to control the test set with the advanced testing software TDMS.
TDMS software is a powerful software package for testing
Protective relays, Watt-hour meters, Transducers and Power quality meters, in transmission, distribution and power generation. TDMS provides data management for acceptance and maintenance testing activities.
Representamos en el pais las siguientes empresas, algunas hace mas de 40 años.